TURBION tamper evident security seal (twist tight)
In stock
The number is applied on the body, twisting mechanism.
Creates a strong tension.
Large area to apply a logo.
The diameter of the holes provide for various types of cables to be used.
Easy to install.
High level of protection.
The Turbion model is an ideal means for sealing objects, access to which is limited, but which are not equipped with burglar alarms and tracking systems. The seal is distinguished by excellent performance and burglary resistance and is very easy to install.
The seal body and its locking part are made of durable plastic (polycarbonate) to pull the cable loop tight enough. Cables of various types and diameters can be used. This model is often used to seal fuel system components (pipes).
The TURBION security seal is manufactured in accordance with TU and GOST 31283-2004 and is intended to seal control and measuring instruments, switch cabinets, sensors, vessels, rooms, containers, cars and many other objects; this model is designed to provide reliable sealing when it is required to create tension on the sealing cable. It conforms to the international standard ISO 17712. Turbion is a plastic seal.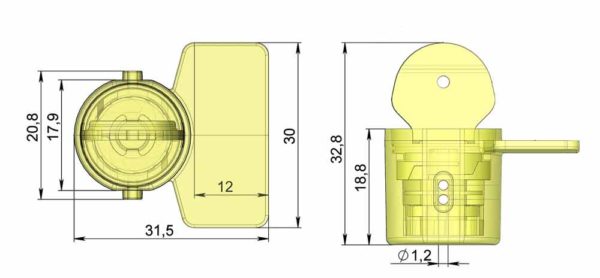 | | |
| --- | --- |
| Seal type: | Twist tight seal |
| Material: | Polycarbonate |
| Overall dimensions, mm: | 31,5 х 30 х 32,8 |
| Hole diameter, mm: | 1,2 |
| Application temperature range: | from –50°С to + 120°С |
| Method of applying the number and logo: | Laser marking |
| Numbering: | Continuous. The 8-digit number on the seal body is duplicated on the insert and with an additional alphabetical designation |
| Warranty period | 3 years |
The Turbion security seal can be used to seal any items where there are holes in two structural elements that are to be sealed. Especially useful where strong tension is required.
In the field of transportation and agricultural machinery, this can be:
Car awning
Car body
Gas tank, fuel pump, fuel filters, fuel line
Doors
Any vessels and tanks
Wagons
Containers
At gas filling stations, the following needs often to be sealed:
Fuel dispensing columns
Fuel tanks
Commercial equipment (refrigerators, boxes for oils and special liquids)
In banking institutions:
Vaults
Safes
Cash-in-transit bags
ATM or terminal elements
Premises
Transport
Sealing of various items:
Electrical panels, substations, etc.
Luggage, when in flights and on a railway train (instead of using a packaging film or in conjunction with it)
Garage, gate, etc.
Based on 0 reviews
Only logged in customers who have purchased this product may leave a review.