ANTI-magnetic seal MagneT
In stock
Clear indication of operation, no additional indication devices are required;
Exposure to a magnetic field causes irreversible damage to the indicator;
Additional protection is possible in the form of a laser cut;
ID number on the capsule with a magnetically sensitive indicator.
The Magnet magnetic field indicator is a sticker with a capsule on it with a special magnetic suspension, which changes its shape irretrievably when exposed to constant, alternating and electric magnetic fields. The sticker is protected against unauthorized interference by a hidden inscription "ВСКРЫТО OPENED", which appears when an attempt is made to remove the indicator from the object sealed. Complies with the requirements of TU 26.5-32700884-002: 2016 (tamper evident security seals), which is confirmed by the Certificate of Conformity No.UA1.170.0040268-16.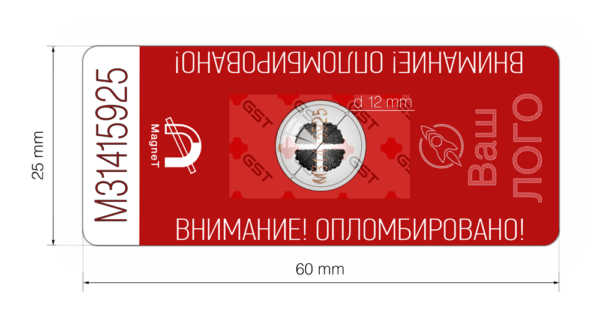 Seal type
Sticker with magnetically sensitive indicator
Surfaces to be sealed
Plastic, metal, glass, painted surfaces
Sensitivity threshold
50 mT
Overall dimensions
60 х 25 х 2 mm
Installation temperature range
+5 … +50 оС
Application temperature range
-40 … +60 оС
Surface marking technique
Label -laser, permeating;
Transparent capsule – laser
Marked information
Unique serial number, text logo, simple graphic logo
Product color
Red for label, transparent for capsule
Based on 0 reviews
Only logged in customers who have purchased this product may leave a review.