Pull tight seals BANKSEAL V2 tamper evident security seal (control seal)
In stock
Plastic collet of simple design
Easy to install
Working length of the seal: 121mm
Fragile, breaks easily
Bankseal V2 numbered tamper evident security seal is made in accordance with TU U 25.2-32700884-001:2006 (Tamper Evident Security Seals).
The seal is intended to make evident events of unauthorized access to cash-in-transit cassettes, cash register rooms, including cash vaults, offices, warehouses, safes, instrument cases and other hardware. The seal meets the requirements of DSTU 4551:2006 (Tamper Evident Security Seals), which is acknowledged by Certificate No.TsSBO.10012.0066-07.
ATTENTION: The product does not have a high threshold of strength and is intended for control purposes rather than for long-term use. It is specially designed for use on cash cassettes when transported in a cash-in-transit vehicle, for a short period of time. When being twisted perpendicular to the axis, the seal bursts! Bankseal is a plastic seal.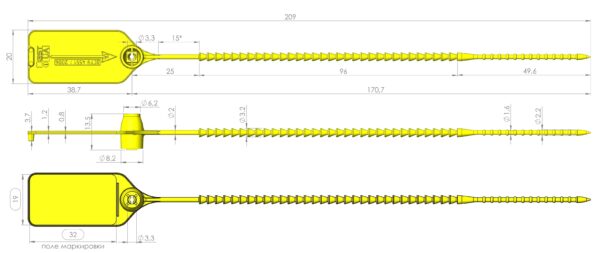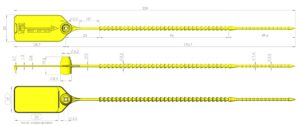 | | |
| --- | --- |
| Seal type | Pull tight |
| Material | Полиэтилен низкого давления |
| Working length of the tail, mm | 101 |
| Tail diameter, mm | 3,2 |
| Application temperature range | from –50°С to + 75°С |
| Method of applying the number and logo | Laser marking |
| Numbering | Continuous. 8-digit number with alphabetic index |
The Bankseal V2 tamper evident security seal can be used to seal any items where there are holes in two structural elements that are to be sealed. It is important to understand that the distance between the holes should be minimal, because working length is 102mm only.
In banking institutions:
Vaults
Safes
Cash-in-transit cassettes
ATM or terminal elements
Premises
Sealing of various items:
Electrical panels, substations, etc.
Garage, gate, etc.
Based on 0 reviews
Only logged in customers who have purchased this product may leave a review.