STRELA LUX Tamper Evident Security Seal, 38.5 cm
In stock
The working length of the seal's tail is 38.5 cm!
Especially easy to install!
Additional holes to fix the loose part of the seal tail (tensile strength is higher)!
Your logo and/or text, barcodes and 2D codes can be placed on the body (flag) of the seal!
The seal insert is made of a transparent material to visually control the integrity of the locking mechanism!
The code of the seal is re-indicated on the cap!
Spikes to seal bags and packages!
The Strela Lux seal is a highly reliable locking device that is used to resist unauthorized entry into controlled facilities and restrict access to devices, bags, boxes, containers, etc. The key part of the seal is the collet lock, which secures the "tail" of the cable to prevent it from moving backwards. The collet includes two pairs of blades facing each other. Use the simplest sequence of actions to install the Strela Lux seal: just thread the cable through the controlled eyes or cavities of an object, and then secure it in the locking part of the collet. The cap glows in the ultraviolet light! With this seal, you can visually check the integrity of the locking mechanism and the correspondence of the number on the body and on the seal insert in dark places or at night.
If the tail is torn off or the structure of the seal itself is damaged, then such a seal is considered to have worked; in other words, it is believed that that the seal was removed and reinstalled. When reinstalled, all seals show visual defects. Be careful when checking the integrity of the seals; familiarize yourself with the parameters that are to be controlled. Strela Lux is a plastic seal.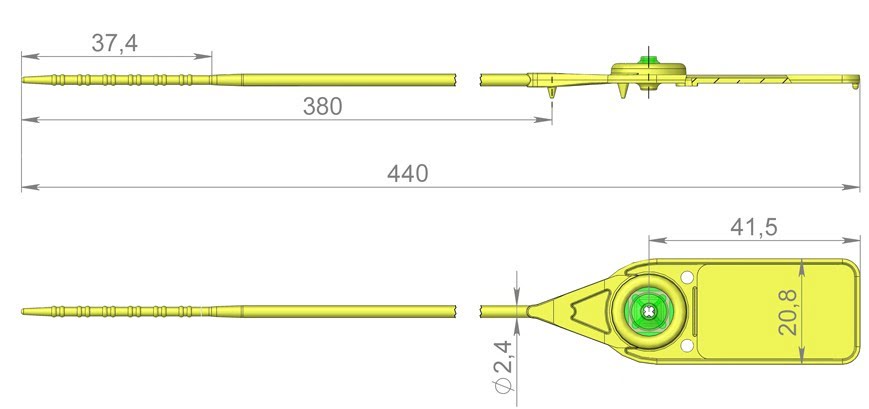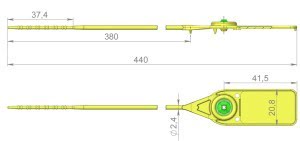 | | |
| --- | --- |
| Seal type: | Pull tight |
| Material: | Polypropylene |
| Working length of the tail, mm: | 385 |
| Tail diameter, mm: | 2,4 |
| Application temperature range: | from –50°С to + 120°С |
| Method of applying the number and logo: | Laser marking |
| Colors: | Various |
| Numbering: | Continuous. 8-digit number on the seal body is duplicated on the cap. |
The Strela Lux tamper evident security seal can be used to seal any items where there are holes in two structural elements that are to be sealed.
In the field of transportation and agricultural machinery, this can be:
Car awning
Car body
Gas tank, fuel pump, fuel filters, fuel line
Doors
Any vessels and tanks
Wagons
Containers
At gas filling stations, the following needs often to be sealed:
Fuel dispensing columns
Fuel tanks
Commercial equipment (refrigerators, boxes for oils and special liquids)
In banking institutions:
Vaults
Safes
Cash-in-transit cassettes
ATM or terminal elements
Premises
Transport
Sealing of various items:
Electrical panels, substations, etc.
Luggage, when in flights and on a railway train (instead of using a packaging film or in conjunction with it)
Garage, gate, etc.
Cable marking for Internet providers
Based on 0 reviews
Only logged in customers who have purchased this product may leave a review.