GARANT tamper evident security seal (drum seal)
In stock
Composed of two pre-installed parts
12 degrees of protection
Self-glow in the UV light (for certain colors)
High level of protection
The Garant seal is a simple and elegant solution that warns visually that access to certain objects is restricted, and also this is an indicator of illegal entry. The seal integrates a unique SENSIHOT technology to indicate when the seal was attempted to be broken thermally. A change in the pattern on the thermal tag indicates a thermal interference attempted in the structure of the seal.
The seal is composed of two parts, which form a lock, when assembled, to secure cables of various diameters. The seal is designed to prevent the cable from being removed without violating the integrity of its parts. An additional degree of protection is the numbering of the body and inner parts of the seal to exclude any chance for its substitution. This model may be used in many areas, such as trade, transport, banking sector, metering devices, etc. Garant is a plastic seal.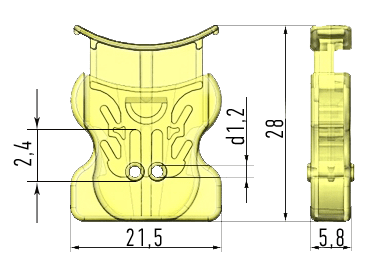 | | |
| --- | --- |
| Seal type: | Drum seal |
| Material: | Polycarbonate |
| Overall dimensions, mm: | 21,5х 28,0х 5,8 |
| Hole diameter, mm: | 1,2 |
| Application temperature range: | from –50°С to + 120°С |
| Method of applying the number and logo: | Laser marking |
| Colors: | orange, yellow, red, purple, milky |
| Numbering: | Continuous. 8-digit number on the seal body is duplicated on the insert. |
Based on 0 reviews
Only logged in customers who have purchased this product may leave a review.