KARAT v.2 tamper evident security seal (drum seal)
In stock
Peerless double-acting mechanism that contains a dovetail latch and an anchor that expands when it is acted upon by a movable wedge;
A unique ID number for each product, which never repeats;
Improved indicator performance due to sealing holes that protrude.
The Karat v.2 security seal is a simple and effective means of signaling and preventing illegal access to premises, hangars, dashboards, automation devices, containers and any other objects, where it is required to make evident the facts of deliberate violation of the security arrangements.
The seal consists of two numbered parts. To seal, loop the cable, which is threaded through the holes on the object and in the body of the seal, and then secure it by pressing on the movable part.The seal has a unique locking mechanism in the form of a movable part of the "dovetail" type and a movable stay wedge. Karat v.2 is a plastic seal.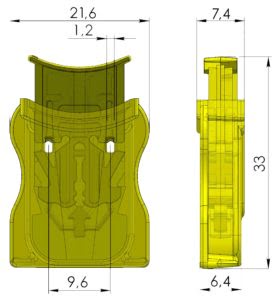 | | |
| --- | --- |
| Seal type: | drum seal |
| Locking mechanism type | Symmetrical dovetail, four elastic elements. |
| Material: | Polycarbonate |
| Overall dimensions, mm: | 33х21,6х7,4 |
| Hole diameter, mm: | 1,2 |
| Application temperature range: | from –50°С to + 120°С, with indication of exceeding the range |
| Method of applying the number and logo: | Laser marking |
Based on 0 reviews
Only logged in customers who have purchased this product may leave a review.