CAPSEAL tamper evident security seal (gas cylinder)
In stock
specially designed for sealing gas cylinders;
the internal locking mechanism is protected against direct access to make its opening impossible;
seals without damage that can be seen;
each seal has its own individual ID number that never repeats;
a special technology for applying a number and a logo in the seal body, without the use of dyes;
counterfeiting and reuse of the seal is excluded;
convenient and easy to install.
The Capseal security seal is the only one in the GST product line, which is designed to prevent illegal withdrawal of liquefied gas from gas cylinders. The unique design and precision manufacturing provide reliable protection. The seal is made as a single whole in the form of a body with a locking part and a cable. Put the seal on the threaded part on the cylinder body, bend the cable around the valve body and fix it in the seal collet.
The unparalleled Capseal provides a high level of protection and can be used in any industry. Strela v.2 seal is recommended to be used additionally. Capseal is a plastic seal.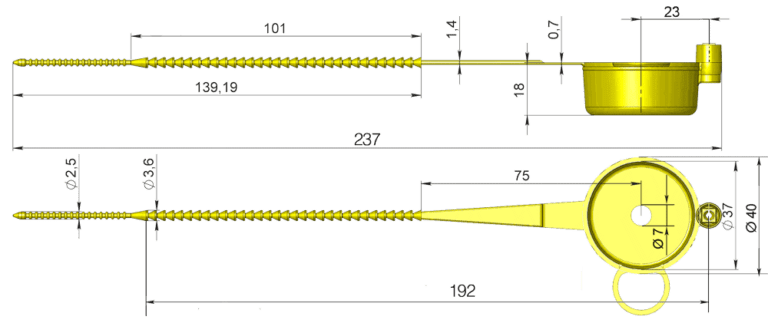 | | |
| --- | --- |
| ТSeal type | Pull tight seal with collet-type locking device |
| Material: | Polyethylene |
| Working length of the tail, mm: | 192 |
| Tail diameter, mm: | 3,6 |
| Application temperature range: | from –50°С to + 75°С |
| Method of applying the number and logo: | Laser marking |
Based on 0 reviews
Only logged in customers who have purchased this product may leave a review.