STRELA LUX Tamper Evident Security Seal v.2 | 22 cm
In stock
The working length of the seal is 22 cm;
Highest level of protection;
The transparent cap provides control of the collet integrity when closed;
New and improved design of a collet;
Limited opening angle of the collet blades.
Strela v.2 can be used as a multi-purpose security seal that suits any applications without exception, including production and financial areas.
The seal is easy to install and also may be used to control the integrity of the collet diaphragm and the cable without additional means. Each seal has a sequential number that never repeats.
Strela tamper evident security seal, modified version 2.0. It is fabricated in accordance with TU U 25.2-32700884-001:2006 to control access to objects such as cash vaults in banks, cash-in-transit bags, warehouses, containers, cars, vessels, fuel dispensers, offices, gaming machines, wardrobes, tourist luggage and many other objects. Complies with the requirements of DSTU 4551:2006 (Tamper Evident Security Seals). The seal is supported with a Certificate of Conformity No. UA11700039349-14 and a certificate for banking equipment CSBO No.002388 AC. Strela v.2 is a plastic seal.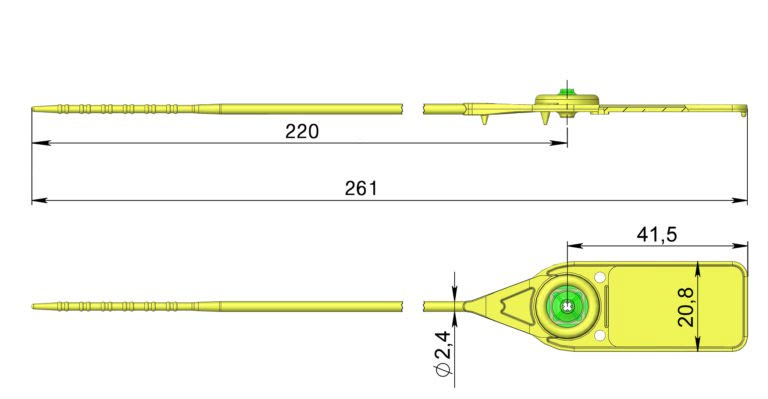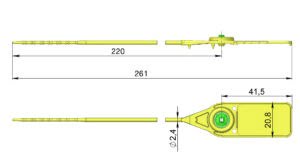 | | |
| --- | --- |
| Seal type: | Pull tight |
| Material: | Polypropylene |
| Working length of the tail, mm: | 220 |
| Tail diameter, mm: | 2,4 |
| Application temperature range: | from –50°С to + 120°С |
| Method of applying the number and logo: | Laser marking |
| Numbering: | Continuous. 8-digit number on the seal body is duplicated on the cap. |
The Strela V.2 tamper evident security seal can be used to seal any items where there are holes in two structural elements that are to be sealed.
In the field of transportation and agricultural machinery, this can be:
Car awning
Car body
Gas tank, fuel pump, fuel filters, fuel line
Doors
Any vessels and tanks
Wagons
Containers
At gas filling stations, the following needs often to be sealed:
Fuel dispensing columns
Fuel tanks
Commercial equipment (refrigerators, boxes for oils and special liquids)
In banking institutions:
Vaults
Safes
Cash-in-transit bags
ATM or terminal elements
Premises
Transport
Sealing of various items:
Electrical panels, substations, etc.
Luggage, when in flights and on a railway train (instead of using a packaging film or in conjunction with it)
Garage, gate, etc.
Based on 0 reviews
Only logged in customers who have purchased this product may leave a review.